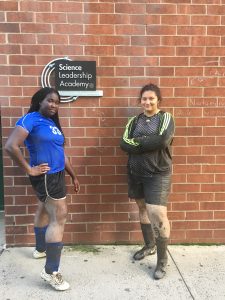 The girls' soccer team dominated Kensington in a wet, muddy double-header on Friday afternoon. Freshman midfielder, Rebecca Cassel-Siskind, and Sophomore striker, Zoe Zisser, scored in the first game, giving the Rockets a 2-0 win.
Cassel-Siskind and Senior Captain, Amelia Benamara, scored in the second game but Kensington fought back, scoring on a penalty kick. Senior midfielder, Sashoya Dougan stepped into a defensive role to help sweeper, Sharron Norton and her defense protect the lead. Cassel-Siskind scored her second goal of the game and third of the day, bringing the Rockets to a more comfortable 3-1 lead and eventual victory.
The Rockets have a tough week ahead, facing Bodine and Constitution, the teams that handed them their only two losses. Go Rockets!