Student Handbook
SLA Swag
Uniforms
SLA's Student Portal
SDP's Student Portal
Laptops
Your Daily Schedule
Resources
---
Student Handbook – can be found here
---
---
Uniforms– SLA students must dress respectfully in such a way that their dress does not interfere with another student's learning. In addition, all students are required to keep a white lab coat at school for use at important events such as EduCon, the Franklin Awards and other special days. 9th Graders will be required to wear their lab coats every Wednesday during the Wednesdays @ The Franklin program.
Students should be aware that teachers can require students to wear lab coats in class—many science teachers will require lab coats when working in the lab.  Students are expected to purchase their lab coat on the first day of school.
While students can put personal touches on their lab coats, we ask that they respect the uniform and the school community, and are appropriate in their consideration of decorations. Students can always speak to a faculty member to gauge whether a certain personal touch is appropriate. Students who inappropriately adorn their coats may need to purchase a new one. Students are expected to be dressed respectfully, neatly, and modestly in clothing suitable for school.
---
back to top
SLA's Student Portal –  Usernames consist of first initial last name and the two digits of the student's graduation year. (ex. mhull21@scienceleadership.org.) Temporary passcodes are also given out at his time.
---

SDP's Student Portal– Login Page here
Access to the PhilaSD Portal is governed by the School District of Philadelphia's Acceptable Use Policy Unauthorized use of this system is strictly prohibited. Usernames consist of the student's SPD student ID number. The student's advisor has this information and can look it up for them in the SDP Teacher portal.
To find login help, click here.
To register for a Parent Portal account, click here.
---

SDP WiFi – This login splash comes up when you enter the school building and choose "PhilaSDWifi" as your network. If it does not pop up type cnn.com into your browser, or go to this page. Students login with the portal login information.
---
back to top
Laptops
Laptop Repairs – Students must fill out a ticket to get the laptop repaired.
To make a ticket –
1. sign in to www.scienceleadership.org
2. click on tools
3. click on mojo helpdesk
4. click login with Google the RED BUTTON
5. start a new basic ticket – blue button, top right corner.
5.a. – students must know their service tag number of the laptop to create a ticket.
Loaner Laptops – Students receive a loaner laptop immediately after filling out a ticket for all repairs except for repairs that have a cost (see table below). Students must pay the repair fee to receive a loaner.
Laptop Fee -SLA's technology fee is $40, it covers theft of machines and breakage to an extent. SLA has a deductible of $50 broken machines. Below is a breakdown of parts/issues covered by warranty, free of charge to repair and parts that incur a deductible to be charged to the family for repair.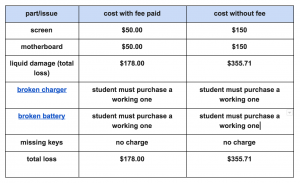 ---
back to top
Your Daily Schedule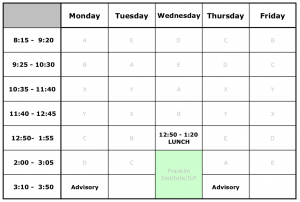 ---
Ask your advisor about any other student resources. 
Teacher email addresses can be found here