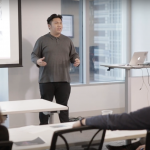 On Monday 5/20, Wednesday 5/22, and Thursday 5/23, SLA seniors will be presenting their inquiry capstone projects. The schedule for capstone presentations can be found here. Good luck, seniors!!!
The Spring 2019 Keystone Exams are coming on Tuesday, May 14 and Thursday, May 16! Tuesday May 14 Keystone Testing Schedule Grade 9 is taking Algebra Grade 10 is taking Literature 8:15 AM – Testing Begins Class schedule after 11am Late Arrival 11:00 -11:40- Y Band 11:45-12:25- X Band 12:30-1:05- E Band 1:10-1:45- A Band…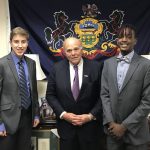 Science Leadership Academy juniors Josiah Mast and Derek Jordan met with former Pennsylvania Governor Ed Rendell on January 17th, 2019. The students were researching issues facing public education in both Pennsylvania and the United States as research for their second quarter US History benchmark project for Mr. Clapper's class. All 11th grade students in Mr….